The Official Web Site Of:


Created By Aaron Silverman

People have entered the world of Stick Dude!

Stick Dude is a lovable, little stick figure that lives in the black and white world of comics. Stick Dude has many strange opinions and humorous, exciting, adventures. To get to know Stick Dude, visit the first site I ever created about him at ww.mcps.k12.md.us/schools/westms/Stick_Dude.html. Stick Dude originally started out as a school project, but now has grown to be a national hero, or at least he more well known than the guy down your street. Without further adieu, I will present to you . . . Stick Dude!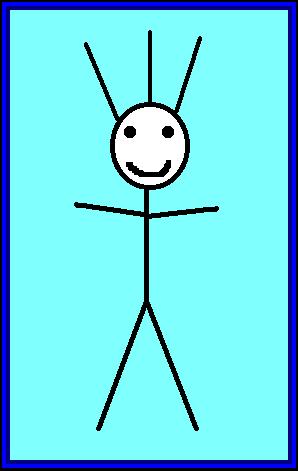 This is him, Stick Dude. Look how attractive he is! Well, in comic land, he is the hottest boy around. And his hair is a very famous attribute of him. His actual appearance changes from comic to comic because I can never draw him exactly right.

Sorry I update this site about as frequent as the United States adds another state, but now that it is summer and school is out, I hope to be working on it more! You may notice some changes because I decided change is good. However, I kind of liked this first page so I kept it mostly the same. If you notice any problems or something doesn't work quite rigt, or you have a suggestion for the site, please e-mail me at sitebegood@stickdude.com so I can fix things up.
For those of you who have not allready, this site will be much more enjoyable if you have these fonts:
If the words next to the box are in the same fonts as the words in the box, then you have got the really cool Stick Dude fonts! If they do not match, you can get the fonts by clicking here, or on the font box above.

The Areas of Stick Dude's World

Stick Dude's Adventures
Stick Dude's Opinions
Stick Dude's Photo Album
The Stick Files(Guestbook)
Stickvice
For those of you who have no idea what each area means, you can get a brief summary using the menu below.

Aaron, the creator of this page, might seem like a strange person. You can click here to vote whether he has a genuine sense of humor, or is just really stupid.

Note:Some of you have been complaining that the spelling in some of the comics are just terrible. I would like to let you know, that it is Stick Dude and his friends, not me, who do the talking. There for any spelling or grammar mistakes is their fault, not mine.
Note: Some sites are not working right now due to technical difficulties. I am trying to get them fixed as soon as possible. So, if anything happens that is not supposed to, quickly turn out all the lights in your house and throw old socks at the computer. AOL users normally have difficulty viewing the comics.